Posted by Ron on December 13, 2012
MOVIE – "The Hobbit: An Unexpected Journey"
DIRECTOR – Peter Jackson
WRITERS – Fran Walsh, Philippa Boyens, Peter Jackson, and Guillermo Del Toro
SIX DEGREES OF CAST & CREW
–Christopher Lee is like living movie history. After all, he's probably the second most famous Dracula ever after Bela Lugosi, and he's a staple in both the Tolkien and Star Wars universes, in addition to his work with Hammer. He's worked with Andy Serkis a lot, but he got to act alongside the actor's legitimate face when Serkis played William Hare (alongside Simon Pegg) in Burke and Hare. Lee played Old Joseph in that movie.
–One of the footmen in Burke and Hare was Stephen Merchant, who wrote the British version of The Office. The Office's breakout star was none other than Martin Freeman. Freeman stars with the awesomely-named Benedict Cumberbatch in the BBC's Sherlock; Freeman is Bilbo Baggins and Benedict Cumberbatch is the villainous Necromancer. (He also was one of the color police officers in Hot Fuzz, alongside The Hobbit director Peter Jackson who played a thief dressed like Santa, Cate "Galadriel" Blanchett who plays Janine the CSI, and Merchant again.) Freeman also plays Declan in the bizarro survivor group led by Yvonne in Shaun of the Dead. He's essentially the male Liz to Jessica Stevenson's female Shaun.
–Andy Serkis also did a voice along with Ian McKellen in Flushed Away, but that's not as interesting. In a 2008 production of King Lear, Ian McKellen played the eponymous King Lear alongside Sylvester McCoy as The Fool. McKellen plays Gandalf while McCoy plays the eccentric Radagast the Brown. Speaking of eccentric, McCoy made his bones in sci-fi circles by playing the very last Doctor Who of the show's original run. As the first Doctor Who I watched, he's officially my Doctor and my favorite Doctor.
REVIEW
Once upon a time, there was an amazing achievement in film making. A young New Zealander took a massive novel that everyone said was not able to be adapted to the screen and somehow, someway adapted it to the screen via massive, long films. That story was about a hobbit named Frodo Baggins. This particular tale is how his story begins with the adventures of his uncle Bilbo.
Bilbo Baggins (Martin Freeman) isn't particularly adventurous. Hobbits generally aren't. They love to eat, they love their pleasant little hobbit holes, and they generally don't get into much trouble, even if a hobbit's grandfather was the famous Bullroarer Took. However, some of that adventurous blood still runs in Bilbo's veins, so when Gandalf the Gray (Ian McKellen) shows up and offers to make Bilbo the 14th member of his company on their journey to reclaim the Lonely Mountain from Smaug the dragon, well… even Bilbo has to relent to that kind of fun offer.
Thus is the beginning of the second cycle of Middle Earth films from Peter Jackson and company. While a prequel to the Lord of the Rings, the Hobbit is not less important to the story. After all, without The Hobbit, there would be no Lord of the Rings. However, The Hobbit was meant for Tolkien's children, and as such, it's much, much lighter in tone and more of a friendly adventure than the world-threatening Rings trilogy. That doesn't make it any worse of a film; if anything, it makes it more of a fun ride than a dramatic slog—though there is some drama to be had, it's not the focus. The focus is on running, chasing, and swordplay.
This is a stunning technical achievement for Peter Jackson. The effects on the Lord of the Rings trilogy were brilliant and groundbreaking, but Jackson is doing something even more impressive with The Hobbit. He's not only filming in 3D using 3D cameras, he's also shooting at 48 frames a second versus the standard 24 frames a second. This is developing technology and only a few theaters are screening in 48 frames. The effect is supposed to make the action smoother and more natural while reducing eye strain. I can't say that it does any of this stuff, because I didn't see it in 48 frames, but the action is a fairly seamless blend of practical and CGI effects (though there are dodgy moments, particularly in the beginning). Jackson makes brilliant use of 3D to deepen his camera's field and expand his field of action, and it looks and plays brilliantly as dwarves and orcs and goblins and elves meet in clashes of steel and stone.
Even more impressively, Jackson's movie combines the excitement of Spielberg's Indiana Jones movies with the inventive and impressive scene composition and shot selection of Sam Raimi, both of whom have definitely had an influence on Jackson. Yes, An Unexpected Journey is long at 169 minutes, but so much of it is filled with breathtaking action and a surprisingly funny streak. It's not the gloom and doom of the LoTR trilogy, but the lighter, punchier fare that inspired those books. The Hobbit, at its heart, is a children's tale, and this movie plays out like a tale fit for children. Everything moves, and nothing ever seems to drag or linger too long. It's as if Jackson's got his energy for Middle Earth back after his break from the franchise.
The infusion of new blood certainly helps. While the major players from the original trilogy are back, starting first and foremost with Ian McKellen's Gandalf, the real star of this merry band is Martin Freeman as Bilbo. He's a very charming actor in other work, and he brings a wonderfully repressed, befuddled Englishness to the whole of his role. Bilbo is the clever one. Bilbo is the brave one—when he has to be. Bilbo is the funny one, and he's surrounded by some pretty funny dwarves, too. The ensemble company is fitting.
Will it be as much of an achievement as Lord of the Rings was when it came out? Well, no; you can't catch lightning in a bottle twice, and everyone knows Peter Jackson might be the only filmmaker able to pull something off like this. We expect great things from him, and he delivers. That said, The Hobbit is my favorite JRR Tolkien work, and I think the decision to incorporate the appendices and errata to flesh out the story into a trilogy will pay off in the end.
RATING – 5 unexpected severed goblin heads out of 5
TRAILER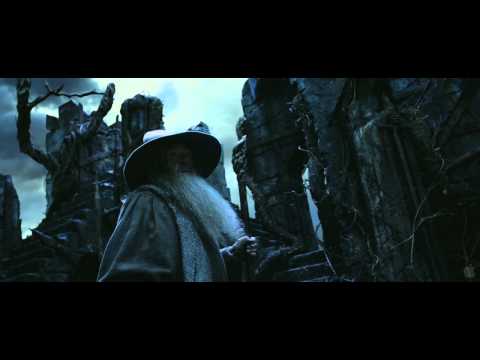 OWN IT: Get "The Hobbit: An Unexpected Journey" on DVD and Blu-ray from Amazon.com!