Posted by Ron on October 22, 2012
MOVIE – "Paranormal Activity 4"
DIRECTOR – Henry Joost and Ariel Schulman
WRITER – Christopher Landon (screenplay), Chad Feehan (story)
SIX DEGREES OF CAST & CREW
–The amazing career of Katie Featherston continues unabated. This is technically her fourth Paranormal Activity appearance, and the Paranormal Activity series is the bulk of her acting resume on the IMDB. Her other major exposure was on the show The River which was produced by Paranormal Activity mastermind Oren Peli. Speaking of steady employment, screenwriter Christopher Landon has been involved in Paranormals 2, 3, and 4, and will be involved in the upcoming Paranormal Activity 5 AND its Latino‑centric variant. Christopher Landon is the son of Michael Landon, which is mind-blowing.
–There's an interesting connection between Stephen Dunham (who plays Doug the father) and Matt Shively (who plays mop‑headed teen love interest Ben). Both were on the Nickelodeon show True Jackson, VP; Dunham was Chad Brackett (awesome name) and Shively was Ryan Laserbeam (possibly the best name ever). Dunham is also married to Alexondra Lee, who plays Holly (the mother) in PA4. That's right, a real-life married couple plays a married couple in PA4.
–If you want to talk about a movie punching above its weight class, that would be the Paranormal Activity movies. Despite the disappointment in the fourth version's opening weekend (only $30 million on a budget of $5 million), the series has raked in massive amounts of money every outing. Thus far, the four Paranormal Activity films have made over $576 million versus a combined filming budget of $8 million. That would explain why they pack the cast with TV actors I don't recognize.
REVIEW
It has been awhile since Katie Featherston started her multi‑state crime spree. Her boyfriend, Micah, is dead. Her sister Kristi and brother‑in‑law Daniel are also both dead, at Katie's hand. Hunter, their infant son, is missing, along with his beloved aunt. Both have been on the run since the 2006 events documented in Paranormal Activity and Paranormal Activity 2.
By all accounts, Henderson, Nevada, seems like a nice place. Alex (Kathryn Newton) seems like a nice kid, with a boyfriend named Ben (Matt Shively). Her parents, Doug (Stephen Dunham) and Holly (Alexondra Lee) have a strained marriage, but they're trying their best to keep it together for their son Wyatt (Aiden Lovekamp). Times are a little tough, but things are good enough until a mysterious woman and her son Robbie (Brady Allen) move in across the street. That's when activities get a little odd, because Robbie is a very weird kid.
Robbie comes and goes without supervision at all times of the day or night, he helps himself to the backyard swingset, and when Robbie's mother ends up in the hospital for a few days, Robbie comes to stay with his friend Wyatt. That's when activities stop being odd and start being paranormal.
One of the most incredible aspects of the entire Paranormal Activity series is the way the various directors have managed to create terror out of nothing. Loud noises, slamming doors, sheets being thrown off, a mousy girl in a tank top standing motionless beside a bed… these things become terrifying in the Paranormal Activity Universe, but the most unlikely aspect of these movies is that they have turned Katie Featherston into a horror icon. When she shows up on screen the first time, all mousy brown hair and tight tee-shirt and sweatpants, people in the theater absolutely flipped out. Every subsequent appearance of Katie was greeted as if she were Michael Myers, whether or not she was doing anything scary. To the viewers of Paranormal Activity, the girl who looks like your friend's kinda cute sister may as well be Candyman.
Another bonus point for Paranormal Activity is that they refuse to cast anyone you might recognize in their films. Aside from Katie, of course; they get anonymous actors from television shows or, in this case, a couple of child actors who are growing into their teenage years, then stick a camera in front of them all. It works because they're like more attractive versions of normal people, and there's no cognitive dissonance when Fred Willard shows up as Katie's wacky neighbor.
To their credit, the teenagers, Matt Shively and Kathryn Newton as Alex the blonde in peril, are both really good in their roles; to his credit, Christopher Landon writes good teenagers. Alex does a lot of dumb things here, like sleep with her door unlocked, but she also does some very smart things to escape from various bad situations. Changing the game a little is always beneficial, especially on movie four.
Speaking of changing the game, Joost and Schulman also change the franchise's visual palate thanks to some creative use of infrared filming. Specificially, the clever use of the Xbox Kinect as a de‑facto night vision camera for the living room. That was very clever, and it created some good moments, albeit it not as good as PA3's fan-camera. Still, it's a neat gimmick that works well and provokes some legitimate scares, even it it did leave me squinting at the screen.
Still, I like that. I like that the Paranormal Activity series depends on its ability to make audiences pay attention to every little detail of the frame. The slow build of the movie's general scene construction only heightens the anticipation, and when something happens in the distance or in the foreground, or in a field of green motion‑sensing dots, the reaction it provokes from the audience is absolutely wonderful.
This is a movie best experienced with as big a crowd as you can find.
RATING – 3 Xbox 360's out of 5
TRAILER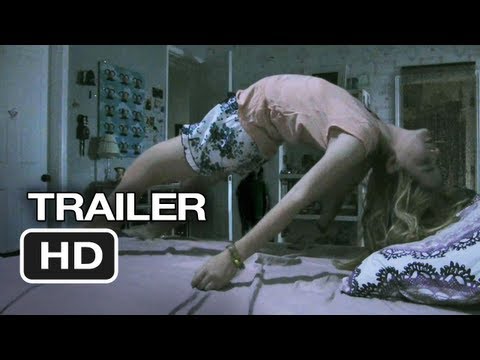 OWN IT – Get "Paranormal Activity 4″ on Blu-ray and DVD from Amazon.com!