Posted by Ron on September 12, 2012
MOVIE – "American Scary"
DIRECTOR – John E. Hudgens
WRITER – Sandy Clark
SIX DEGREES OF CAST & CREW
–One of the horror hosts is Bill "Chilly Billy" Cardille, a Pittsburgh staple and host of the Chiller Theater on WPXI in the 60's and 70's.  Chilly Billy was a television reporter in both the original Night of the Living Dead and the 1990 remake.  His daughter, Lori Cardille, had a bigger role as the lead in Day of the Dead.  His granddaughter, Kate Rogal, has played bit parts in both the Jason Statham movie Safe and the Steve Carell/Tina Fey comedy Date Night.
–For three years, Ernie Anderson played Ghoulardi on television in Cleveland, Ohio.  Before he was Ghoulardi, Ernie Anderson hosted a variety show on WJW called Ernie's Place, and his head writer/frequent guest was a young man by the name of Tim Conway, who he collaborated while working in New York.  That's right, Tim Conway from The Carol Burnett Show and Dorf videos and all kinds of other comedy stuff.  After Anderson ceased to be Ghoulardi and headed to Hollywood, he became the announcer for The Carol Burnett Show thanks to his Tim Conway connection; Anderson would serve as the official voice for ABC television for decades, providing the introduction for The Love Boat, every ABC News bumper, and even America's Funniest Home Videos.  Oh yeah, Ernie Anderson's son is Paul Thomas Anderson, the famous auteur director and writer behind Boogie Nights, Magnolia, Punch‑Drunk Love, There Will Be Blood, and The Master.  PT Anderson's production company is named after Ghoulardi.
–Ghoulardi's web extends past Hollywood.  He inspired a host of other Ohio-based horror hosts, including direct successor The Ghoul (Ron Sweed), who inspired Hoolihan (Bob Wells) and Big Chuck (Chuck Schodowski), which morphed into Big Chuck and Li'l John (John Rinaldi).  The Ghoul in turn inspired Akron host Son of Ghoul (Kevin Scarpino). Ohio is America's largest native supply of horror hosts, apparently.
–For those too young to remember the glory days of local television, several syndicated favorites also make appearances:  Commander USA, Joel from Mystery Science Theater 3000, Elvira, Joe Bob Briggs, and Mr. Lobo, just to name a few.
REVIEW
In the early days of television, the only way to generate programming for most television stations was to turn to their own devices to create programming.  From broadcasting local sports and professional wrestling to in‑house children's shows, morning shows, variety programs, etc., local television ruled the day and while the programs were similar wherever you went, they were never the same.  That's all changed these days, what with network affiliate programming filling prime time and late night hours and the rest of the programming filled with syndicated talk shows.
However, in 1957, Universal Studios would change the way television hours were filed with their Shock Theater block, a package of 52 movies featuring titles both well-known (Dracula, The Wolf Man, all of the classic Universal Monsters) and unknown (Enemy Agent, Chinatown Squad, the awesomely-titled Pillow of Death).  (Screen Gems would follow with 20 more movies in the Son of Shock block in 1958.)
With the purchase of that block, local TV stations suddenly had hundreds of hours of space filled and lucrative commercial space, but you couldn't just slap up some old movie and call it a night.  Not when everyone else had the same package of films to push as you did.  A network needed to differentiate itself, and the way most networks did that was via a horror host.  The horror host was usually a guy in bad makeup or a woman showing a lot of cleavage; generally they told bad jokes, performed funny skits, or did something to take the scare out of the horror or make the turkeys worth watching.  Hence, the horror host generated pretty much everywhere all at once, and from the 1950's through the 1980's, you couldn't turn on the television on a late Saturday night without running into someone filling space around a (usually) black and white horror flick.
Presented in a format free of narration, director John E. Hudgens basically sets up a camera and lets the guest of honor do all the talking.  I'm sure they were led with questions, but we never get to hear the queries from Sandy Clark's pen get spoken aloud.  The hosts talk, clips are spliced in when appropriate, and the bridge segments of the program are all provided by the hosts themselves.  When, say, Zacherle digresses into a discussion of Son of Ghoul, Hudgens uses that opportunity to cut to Son of Ghoul talking about whatever they were just discussion with Zacherle.
It's a clever way to put together a documentary if you want to eschew the narration, and it puts the onus not on the gimmick, but the individual performers and their shared heritage.  It's great how they build a history of the genre from Vampira at KTLA through the syndication and early cable years of Commander USA, Elvira, and Joe Bob Briggs all the way to modern horror hosts like Mr. Lobo.
Apparently, there is a thriving community of horror hosts on the Internet and still active on local television channels, and that makes me feel good about the future of the genre.  As long as there's a network with time to fill, old movies, and a willingness to spend upwards of $10 dollars on costumes, makeup, and sets, there's going to be horror hosts out there.  Even if television support dries away completely—and it never will—there's always the Internet.  It's nice to know that there are people out there still keeping the old ways while inspiring a new generation of budding horror nerds.
The documentary isn't perfect, but it's really good nonetheless.  They captured interviews with a lot of older horror icons who aren't long for this world (or who died during production).  The horror host is a part of television history, and it deserves to be recorded.  There's definitely anOhiobias, but there's such a strong community of horror hosts and their supporters there it makes it more like an extended family.  I would have loved to hear more from Vampira; alternately, more from Joe Bob Briggs, Elvira, Commander USA, and the other icons of my impressionable youth/teenage years, but I doubt there's a better horror host documentary out there.
RATING – 4 fright wigs out of 5
TRAILER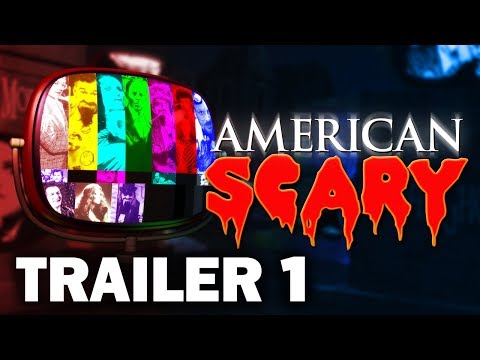 OWN IT – Get "American Scary" on DVD from Amazon.com!
WATCH IT