Posted by Ron on August 29, 2012
MOVIE - "Loom"
DIRECTOR – Luke Scott
WRITER – Luke Scott
SIX DEGREES OF CAST & CREW
‑Luke Scott's kind of a generic name, isn't it?  Anyone can be Luke Scott.  As it turns out, this Luke Scott isn't just another dude with access to a great camera.  This Luke Scott is the son of Ridley Scott, nephew of Tony Scott, and—judging from the results of this shot—heir to the Scott mangle of film-making genius.  The only previous directing experience listed on his IMDB page is a 1999 episode of the TV series The Hunger, which was partially based off Tony's 1983 film.
‑The man behind the camera has some able assistance in cinematographer Dariusz Wolski.  Fresh from being Ridley's cinematographer on Promethius, you'll know his work best from the three Pirates of the Caribbean movies.  He greatly aids Scott the son in crafting a brilliantly lived-in near-future world where genetic engineering is possible, yet people still have to travel by bus.  Loom takes its cues from Blade Runner, to great effect.
‑I honestly know next to nothing about the lead actress, Jellybean Howie.  Or maybe Jelly Bean Howie, like Francis Bean Cobain.  Apparently she was born Jennifer, but I like Jellybean better and she has become Jellybean legally (her sister is nicknamed Lollipop) according to an OC Register interview.  She rose to prominence on Josh Schwartz's TheWB.com web series Rockville, CA, but I don't watch any of Josh Schwartz's stuff so I missed it.  She's played a lot of models, which is fitting because she is/was a model.
Click below the cut to watch the film!  Warning:  is slightly NSFW for some fleeting boobity.
WATCH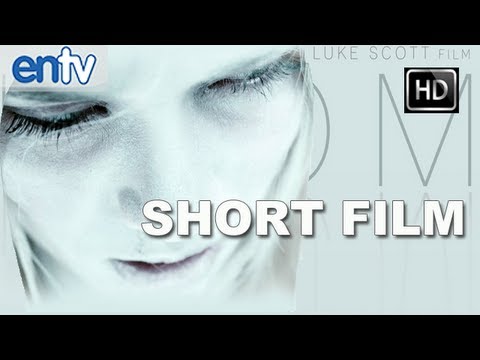 REVIEW
In the near future, humankind lives in a semi-dystopian future, where a genetic technician Galvin (Giovanni Ribisi) works in a lab setting, grading and double-checking laboratory-grown designer meat.  We're talking hybrids between beef and pork, created in big vats and tubs, and sold to humans after a significant amount of genetic manipulation.  It's a boring job, being the future FDA, but it pays and, like Galvin says, "People have to eat."
Of course, it's what the tech does in his off time that seems to be most interesting.
The actors in this film are uniformly impressive, both leads especially.  I like Jellybean Howie's performance as Escha; she mostly has to be beautiful and very pale, but she delivers her dialogue well and seems to know her way around a meaningful pause.  Giovanni Ribisi does the heavy lifting as the beleaguered, nervous lab technician.  As always, Giovanni Ribisi plays a great sketchy weirdo, be it in the future, the past, or the present.  He brings some unique physical things to his performance, particularly in posture, and the interplay between the tech and his mysterious guest is very good.
The plot is a simple one, once it actually unfolds, but it's a sci-fi staple.  In the future, everyone is connected and hunger is cured, but other basic human needs go unfulfilled.  Things are cold, if not sterile, and the emptiness within the human heart still needs to be filled.  Like Ridley, Luke does lean a bit towards the pretentious, and the plot takes awhile to get engaged, but he lays the groundwork for the climax and reveal efficiently enough, and the plot turn, expected as it is, is still well executed.  It feels like a constructed, full world.  Leaning on Blade Runner helps, but it establishes itself from the very beginning, and maintains that atmosphere throughout.
I do have to most complain about the sound level.  The whispered dialog, particularly between Ribisi and Howie, is very difficult to hear, even when the soundtrack drops out.  I would have liked to have it a little louder so as not to have to adjust my volume between scenes, but the quiet did make certain things—like the first suck on the inhaler—more effective.  Admittedly, that's a minor complaint (as it was intended to make me pay attention and did so successfully), but it is still a complaint.
The film, to the credit of Scott and Wolski, looks brilliant.  It captures the Blade Runner feel perfectly, and while it leans dark, it works well.  Apparently, the film is a show piece for RED Cameras, their 3D laser player, and the 4K video format.  It does a great job.  I can't help but feel it loses a lot via YouTube compression, so you can visit the RED Forums for a higher-definition version that you can eyeball at your leisure.  Even with YouTube's limitations, the movie looks great, and I think that the compressed nature actually makes it a bit more Blade Runner-y; Blade Runner is a stellar film made to look grimy, and the same goes for Loom.
As an early effort, Loom is great.  Visually stunning, interesting universe, great technique and technical skill makes Loom a short worth your 18 minutes.
RATING – 4 cloned meat piles out of 5
VIA – io9.com