Posted by Ron on February 10, 2012
MOVIE - "Shaft"
DIRECTOR – Gordon Parks
WRITER – Ernest Tidyman, John F.D. Black
SIX DEGREES OF CAST & CREW
‑Director Gordon Parks brings an intense visual style to "Shaft."  That's easy to do when you're a professional photographer for Life Magazine.  Parks is also the co-founder of Essence Magazine; Parks's Hitchcock cameo is as the landlord Shaft grills when out looking for Ben Buford.  Shaft is also seen reading Essence magazine during the movie.  Parks was the first black person to direct a movie for a major studio, when he helmed 1969's "The Learning Tree," which was based on his autobiography.  (Also, according to IMDB, Parks was close friends with Candace Bushnell, who wrote/inspired "Sex and the City," but let's not hold that against him.)
‑Two famous blaxploitation names were in the running for the role of John Shaft.  One of these was Isaac Hayes.  He obviously didn't get the part, but producers were so impressed by his musical resume (he was one of the originators of the Memphis Sound and worked with Otis Redding and Booker T & the MGs among others), that they gave him the job of scoring the movie.  Hayes was the first black person to win an Oscar for Best Original Song.  He would later get that coveted leading man part in 1974's "Truck Turner."  The female vocalists for Hayes' immortal Theme From Shaft were Telma Hopkins and Joyce Vincent Wilson from Tony Orlando & Dawn.
‑The other famous name gunning for Shaft was Ron O'Neal (who producers felt was too light skinned to play Shaft).  O'Neal would get his blaxploitation fame in 1972's "Super Fly."  "Super Fly" was directed by Gordon Parks Jr., son of "Shaft" director Gordon Parks.
‑As for the man who won the role of Shaft, Richard Roundtree, he played Shaft a total of five times:  "Shaft," "Shaft's Big Score," "Shaft In Africa," "Shaft (the TV series)," and "Shaft" (the 2000 remake, as Uncle Shaft to Samuel L. Jackson's Shaft).  He's also a breast cancer survivor, having been diagnosed with the disease in 1993 and having beaten it.  He now speaks to groups about educating men on the dangers of breast cancer and the importance of early detection and treatment.
REVIEW
Before we go any further, just watch this clip of Isaac Hayes playing the Theme From Shaft at Wattstax in 1972.  I'll wait; better yet, let it load, then let it play while you read this review.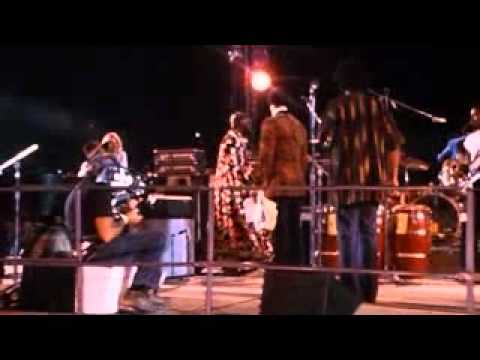 John Shaft (Richard Roundtree) is the baddest private detective in all of New York City.  From Manhattan to Harlem, everybody on the streets knows Shaft, and most importantly, they know not to mess with Shaft, because he's the baddest cat to ever don an incredible leather trench coat.  When you need something done, or when you need information, Shaft's the man you go to whether or not you're the cops, Harlem gangsters, or even the Italian mafia.  It's these last two that land Shaft in the toughest case of his life.
On one side, the cops are pressuring him for information.  The black nationalists want Bumpy and his drug-peddling ways out of Harlem.  Meanwhile, Bumpy Jonas (Moses Gunn) has hired Shaft to get his kidnapped daughter back from the Italian mafia.  The mob wants Harlem, and to get Harlem they either need to get Bumpy Jonas to accept their terms or they need to get rid of Bumpy and his men, hence the kidnapping of Bumpy's daughter.
Things are rapidly spiraling out of control, but when you're the coolest cat in the world, nothing's too crazy.
Richard Roundtree's Shaft is an incredible performance.  He's the coolest guy in the room at all times, even when he's throwing guys out a window, being shot at, or nearly being hit by a cab while jaywalking.  It's a credit to Roundtree that he's managed to nail such an iconic role in one of his first film performances, and it's a credit to the character that Shaft remains an iconic detective, alongside Philip Marlowe, Sam Spade, or even Sherlock Holmes in his deerstalker hat.  Part of this is the movie's ultra-70's feel, and part of it is the fact that Shaft is above all politics.  He's friends with blacks, whites, gays, straights, and even cops.
As in the original stories, Shaft is a private detective who is black, and not an overt black radical or even a political figure.  He negotiates political situations, but Shaft utters no rallying cry for black nationalism; Shaft just wants his money and his women and to solve crimes.  Sure, the script contains a lot of the standards of blaxploitation fare, but it's not overly offensive to white people, gays, or women (basically anyone not a black male).  The script also has some pretty funny moments, especially when Shaft is chatting with Detective Andruzzi (Charles Cioffi).
Gordon Parks, as a photographer, really knows what to do with a camera and how to frame shots.  Granted, most of his shots are fairly static, but that doesn't matter when the shots look so good and the transitions are done so well.  Parks's camera makes 1970's New York look like a gritty, grimy, busy, bustling, exciting place to be, even if you don't want to be out on the streets after dark.  This is a beautiful film, no doubt about it.
Even now, 40 years later, Shaft remains a vital, impressive work of cinema.  Not just from a black director, or in a black genre, but just as a movie period.  It's no wonder that Shaft (and Sweet Sweetback's Baadasssss Song) helped kick off an entire genre of imitators and spoofs while inspiring an entire generation of writers, directors, and actors across all races.
That Shaft is one bad mother-… well, I best shut my mouth, even if I am only talkin' 'bout "Shaft."
RATING – 4 defenestrated thugs out of 5
TRAILER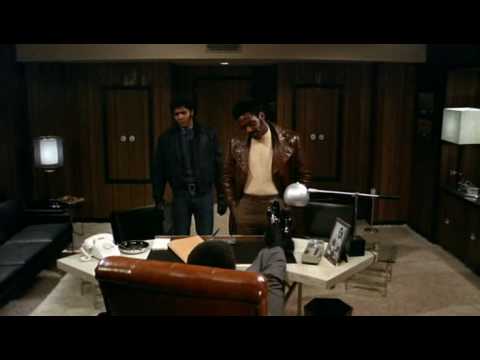 OWN IT: Get "Shaft" on DVD or old-school VHS from Amazon.com!