Posted by Ron on December 6, 2011
MOVIE - "Bloodstone: Subspecies II"
DIRECTOR – Ted Nicolaou
WRITERS – Ted Nicolaou, Charles Band (idea)
SIX DEGREES OF CAST & CREW
- Do I even need to give you any information for Melanie Shatner, who plays Rebecca Morgan?  I mean, her last name is SHATNER, so you know she's got to be the daughter ofCanada's most famous starship captain, William Shatner.
- Kevin Spiritas, who plays helpful-ish American consulate employee Mel, has a background in horror.  He played Roy in "The Hills Have Eyes Part II" and Nick in "Friday the 13th Part VII: The New Blood."  Apparently, he likes to be in sequels.
- Norman Cabrera and Wayne Toth, the lead singer and guitar player for the heavy metal band featured in the club where Melissa finds her first kill as a vampire, are both special effects gurus.  They worked on the creature effects on this film, and both have gone on to work with Rick Baker, KNB FX, and other notable companies on a wide variety of big time movies.  Everyone's got a beginning I guess.
REVIEW
They say it's hard to keep a good vampire down.  Apparently, that goes double for a bad vampire.  Despite being staked and decapitated at the end of "Subspecies," Radu (Anders Hove) is back, thanks to a little help from his mini minions.  They help Radu get his head back in the game, and now it's up to Radu to get his revenge.  First, his brother Stefan gets staked (and for whatever reason, he melts into a puddle/becomes dust rather than survives).  When it's time for Radu to take the lovely Michele (Denice Duff) as his own, he discovers something.
Not only has Michele grown long curly hair, changed her voice, gotten more attractive, and become a different actress in the matter of a few hours, she also manages to elude Radu and make her escape with the mythical Bloodstone.  She also is nursing a pair of vampire bites, one from Radu and one from the late Stefan.  Torn between three worlds, it's up to Michele to determine just how she wants to live.  Does he want to be a hero like Stefan or a monster like Radu?  Fortunately, she's got her sister Rebecca (Melanie Shatner) and a bumbling professor Popescu (Michael Denish, in his only acting work) to help her escape Radu's immaculately manicured clutches.  Fortunately, Radu has his Mummy (Pamela Gordon) on his side, and Mummy is quite persuasive.
The big change in Subspecies II is the change in Micheles, from Laura Tate to Denice Duff.  Duff definitely is an improvement in the haircut department, even though she looks less like a college student and more like some kind of gypsy given the wardrobe she scrounges up in the basement of the opera house or theater or wherever it is she hides during the daytime—I have no idea what this building is supposed to be, but it's awesome.  Shatner's daughter is pretty good in her limited role, and Michael Denish as the addled, elderly professor is very amusing, as is Ion Haiduc (a Charles Band regular during this period).
Ted Nicolaou is on point once again.  He knows how to work with the scenery he's got, and he uses it.  The flick has a few good shots, too, including the interesting use of light and shadow when Radu travels.  The addition of the awesome-looking Mummy (and its incredible makeup) is simply a bonus.  I wonder if you could get away with making a B-movie in Romania's most sacred historical sites these days.
Aside from that, we've got a standard kind of cat and mouse flick, with Radu and Rebecca working to find and save Michele.  The cooperation with the Romanian government continues, and once again, the surroundings are beautiful.  Michele's hiding place is especially awesome, and the scenes in which the characters wander around darkened Bucharest are beautiful, and Michele's clothes/stolen costumes are also really cool, too.  They're very funky, but they hearken back to the kind of period costumes worn by folks in traditional Dracula tales.  It, like Radu's use of shadow magic to travel around barriers, is kind of a cool nod to vampire traditions without being overly deferential to them.
That's the thing about the Subspecies series.  It's obviously a vampire tale in which the vampires have some of the traditional weaknesses, but it's an updated version in which the vampires get to be both seductive (as in the case of Michele and Stefan) and monstrous (as in the case with Radu).  It's a series that gets to have its cake and suck blood, too.
RATING - 3 magical knives out of 5
TRAILER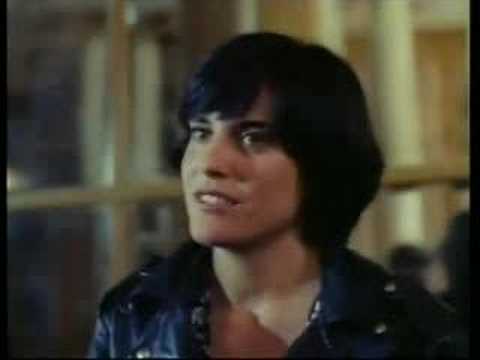 OWN IT: Get "Bloodstone: Subspecies II" on old-school VHS, DVD, or get the entire Subspecies Epic Collection from Amazon.com!