Posted by Andrew on September 1, 2010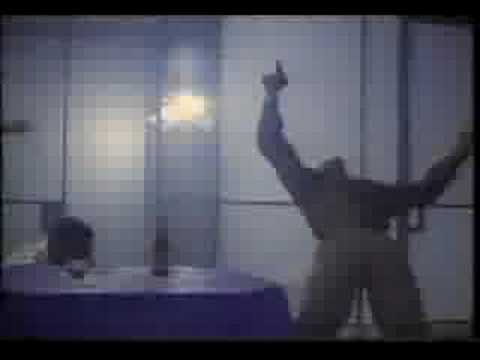 MOVIE – "True Vengeance"
DIRECTOR – David Worth
WRITER – Kurt Johnstad
SIX DEGREES OF CAST & CREW
- Director David Worth has a decent resume of straight-to-dollar-bin action flicks, including "Kickboxer", starring the "real" Jean Claude Van Damme. His more notable work was as Director of Photography for "Any Which Way You Can", "Bloodsport", and Bruce Campbell's long-realized dreamwork, "Man With The Screaming Brain".
- Writer Kurt Johnstad has written for four movies: this one, two that aren't out yet, and the fourth one being the screenplay for a little war epic called "300″.
- Stars Daniel Bernhardt and Miles O'Keeffe are both heroes of Mystery Science Theatre 3000 movies, "Future War" and "Cave Dwellers", respectively. Both actors got their starts in acting being cast as cheap knockoffs one way or another. Bernhardt is a Jean Claude Van Damme lookalike in the "Bloodsport" sequels, and O'Keeffe's second movie ("Cave Dwellers") is a "Conan" re-hash. Also, at 6 foot 3, O'Keeffe towers over Bernhardt by a whole half-an-inch.
- Villainous George Cheung is one of those asian faces that you've seen at least a couple dozen times without realizing it. Notables: "Weekend At Bernie's", "Robocop 2″, "Rush Hour", "Mission Impossible 3″. Speaking of Robocop, he's also done stuntwork for "Robocop 3″, "Escape From L.A.", and "Beverly Hills Ninja".
- Bernhardt and Cheung both have "Matrix" related credits, Bernhardt as an Agent in "Matrix: Reloaded", and Cheung providing several voices for "The Matrix: Path of Neo" videogame.
- Henchman Roger Yuan also did stuntwork for "Escape From L.A." and "Beverly Hills Ninja", as well as for "Ring of Steel", as reviewed by me on this site!
- Jeez, even fellow henchman Leo Lee did stuntwork for "Escape From L.A."! He was also in "Big Trouble In Little China" with… George Cheung!
- Affable Harrison Young was in "Waxwork II: Lost In Time", while Miles O'Keeffe was in the first one.
- Though it's not fun to admit, the core of the "Japanese Yakuza" cast is by and large… well, not Japanese. Only Yasuke Todo is legit, and his only other film credit is, oddly enough, "The Yakuza Way".
REVIEW
Now THIS is how you make a straight-to-video, rehashed-from-everything-else action movie.
First you take a Jean Claude Van Damme look/sound/kick-alike. Then you stick him in a Commando-esque plot device. Then you make the cast the lead villain with a 167-plus-acting-credits character actor who's had a bit part on Seinfeld. Then you shoot alot of guns.
But let's gander at the specs for this four-wheelin' nightmare. All in all, there's not much to it. Daniel Bernhardt is an fully decorated ex-Navy Seal and assassin who defected by marrying a Japanese woman (who's since dead) or something. It's not really clear. He's somehow indebted to the Yakuza, to the extent that he has to play assassin for them, "one last time". That's kinda fuzzy too. Before we know it they've kidnapped his daughter and he's weighing himself down with a couple hundred pounds of artillery and stabbing things. You can even see him waddle under the weight of it briefly after first suiting up, I swear. Then he drives around California and sometimes shoots people.
Well, sometimes. One would suspect that, under these vengeful, straight-to-video  circumstances, he'd be charging bazooka-first into the Yakuza's headquarters. But he does actually have to do a fair amount of legwork and kickbox his way up the chain of command. And while you'd think this wouldn't take too long… it actually doesn't. Cuz while Bernhardt tortures thugs to find the truth, the police torture us with overly smug, sarcastic dialogue about hidden cameras and bulletproof vests.
Thankfully, there's the Yakuza to keep us awake. Our hero isn't terribly enthralling in the search for his daughter, but the Japanese mafia are busy beavers in their own right, committing seppuku and wearing pink bandanas and kneeing police detectives in the groin…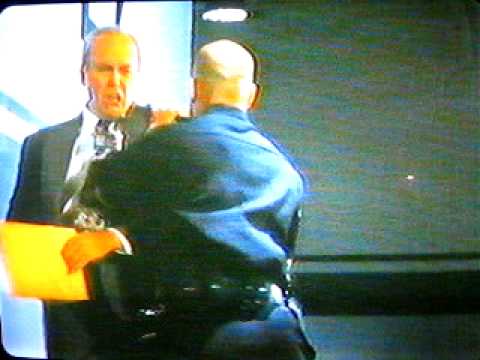 The badguys are downright commendable in their efficiency, recognizing problems and taking direct action. Fortunately they're smart enough to realize that, when you want something done right, you gotta call in a Specialist…
Before Bernhardt confronts O'Keeffe, you're by this point probably all headache-y from rolling your eyes at the poor man's Jean Claude Van Damme that is Daniel Bernhardt. He has his strengths, he has his qualities. But unfortunately, as someone decided way back at "Bloodsport 2″, his other qualities reflect those of Mr. Van Damme rather nicely. And it's almost impressive to see how it's not just Bernhardt imitating JCVD, but the film crew as a whole. The slow motion shots of Bernhardt spin-kicking badguys are framed, angled, and replay-edited just like you'd see in a JCVD scene, replete with Bernhardt making "Raahhhh!" groans in realtime with the slow motion film. Thankfully the fight sequences are of decent quality and impact, and the gunplay even carries an air of a John Woo shoot'em'up (hence Bernhardt's qualifications for "The Matrix: Reloaded").
So who is Miles O'Keeffe, anyway? If you're as big a Mystery Science Theatre 3000 geek as I am, you recognize him from 1984′s "Conan" hackjob, "Cave Dwellers" (aka The Blade Master, aka Ator The Invincible, aka Day of the Sword Man (in Pakistan)). And you if do, you probably already recognize Bernhardt from 1997′s "Future War". But while you might be salivating at the thought of such a MST3K dream fight, you're unfortunately left with a pretty ham-handed sword fight. Neither man seem to know how to handle their blades, despite O'Keeffe utilizing a sword in "Cave Dwellers", and Bernhardt knowing several forms of martial arts, legit. So with both men towering over 6'2 and boasting action movie experience already, you'd think just hand-to-hand combat would make more sense. But since when do these kinds of movies "make sense"?
And that headache I mentioned? Probably also from the lightning-quick editing, faster than the machine guns being fired slow motion. This is interestingly contrasted with the filming of several dialogue-only scenes: lengthy, single-take shots where the camera circles two or three actors like a shark, rather nicely dipping in and out with the grace of a tai chi exercise.
The acting is pretty well what you'd expect: the leads are alternately flat or over the top, and the secondary cast (again, the Yakuza outshining the heroes) providing interesting moments that make you go, "Why isn't he in more stuff?". Hero Bernhardt isn't quite boring, and his cheesy post-action catchphrases are over-delivered just enough to make you remember why these movies were so awesome, back in the day. Conversely, we've got painfully-smug detective Jonathan Lutz and painfully-flat navy lieutentant Beverly Johnson who are only there to space out the action sequences. And make some sort of James Brown joke at one point, I dunno.
And true to most cheap-o action movies of this nature, the ending is very matter-of-fact and anti-climactic, yet left with an opening for a sequel. Too bad you'll be thinking of an "Enter The Dragon" joke more than you'll be caring about the hero and his daughter literally, LITERALLY sailing off into the sunset.
RATING – Three knees-to-the-detective's-groin out of five
STINGER